Wedding Dress Sydney CBD
The Dymocks Building is your one stop bespoke shop for the all things wedding dress Sydney. Come in and try on your dream wedding dress, our tenants want to make the process of planning your wedding as simple and enjoyable as we can.
Our centrally located Sydney CBD building has a wide range of Brides Dress Sydney based stores that stock everything form the traditional to the unique to suit any kind of Sydney bride.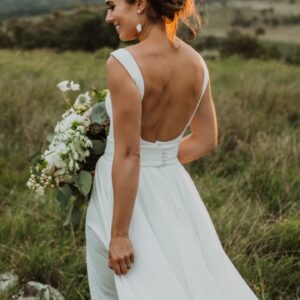 ---
Rhonda Hemmingway Couture
Creating perfect, made to measure custom Wedding and Evening Gowns for the past 30 years. Winner of…
"We liked the charm of the building and it has been a wonderful location for us. The building is like a one stop wedding hub for brides of Sydney, with gowns and associated jewellery, photography and tailoring services."
- Nicky Farina from Fashions by Farina.
Brides of Sydney - Expect the unexpected
Discover levels 1-10
Grab your Bride Tribe and schedule an appointment with our team of Bride BFF's today. Located in the Centre of Sydney, The Dymocks Building's consultants are here to assist you in finding your dream wedding dress in the CBD.
Find your dream Wedding Dress in Sydney
Planning a wedding will be such a special time you share with your friends, family and partner. There are so many beautiful details that go into making the day special, but there is one major purchase that can feel like the whole wedding is based around... your dress! We know that finding that perfect wedding gown can be overwhelming – especially when you're just getting started. The good news is that we've helped many stressed brides to be just like you find the one and it will be our delight to help you find a wedding dress that makes you look and feel magical. Our selection of stylish Bridal Gown Sydney and bridal accessories are hand-picked, giving you a curated collection from the world's most well known designers. Offering affordable couture style wedding dresses without the price tag.