Abbey Bridal – Josh & Claire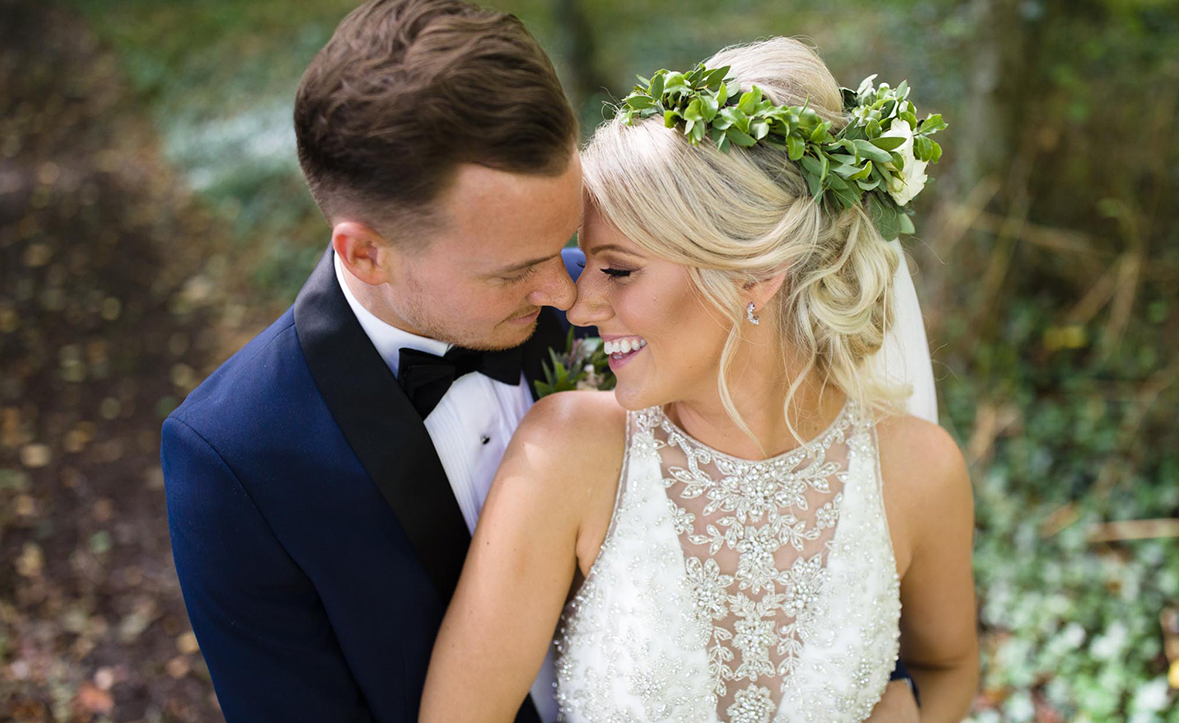 I wore Maren by Maggie Sottero. The dress made me feel like the bride I had always dreamed of being! I wanted something a little bit different, and something
that would fit in our rustic English barn – when I tried on Maren I fell in love. It had the perfect balance of detail and natural style. On the day
I felt amazing- the dress had such a wow factor when I walked down the aisle! Plus, it was the most comfortable dress for dancing in – my ideal dress!
We got married in England (we are English!) and it was such a highlight to be able to bring pieces of our life in Australia into the day. We had eucalyptus
in the flowers, Tim Tams (so cliche!) for favours, and each table was named after an Australian independent craft brewery. We even shipped over the
beers for our English friends to try! It was really nice to be able to bring both of our 'homes' together into one occasion. Our DJ and band even did
a surprise version of 'land down under!'
Another highlight were the surprise 'singing waiters'. I was half way through my dessert, and before I knew it the whole room were standing on their chairs
singing 'That's Amore!' Its sounds cheesy – and it totally was, but it was such a good icebreaker for the guests and definitely made the speeches a
little easier!
Abbey Bridal was the first wedding dress shop I went to – and after visiting every other wedding dress shop in Sydney, all I wanted to do was go back to
Abbey Bridal.

The service they provided outshone every other shop we visited. They really cared about the style of my wedding, asking me to see pictures of the venue
and the groom and made suggestions for styles I never would have thought of.

I was terrified about dress shopping – and Abbey Bridal made me feel so comfortable. They made me feel so at ease, and really confident with the decision
I made.

I have since recommended Abbey Bridal to every bride I know! I genuinely don't think you can get a better experience or service in the whole of Sydney
– I genuinely believe that!
Thank you so much – you really made such a huge difference.
Advice to future brides – The little details matter! People might tell you in the lead up to the wedding to stop fussing over the small personalised details
– for us it was the biggest pay off. Our guests were amazed at all the small personal touches we had put into the day and it was what made it so special
for people. It takes time and effort, but its totally worth it in the end!
It's just a wedding! We managed to remain completely laid back about the whole thing. Didn't react to any difficult family or friends, and didn't stress
when suppliers let us down…at the end of the day, its just a wedding. The whole point of it is to celebrate your marriage- not lose friends! Just
stay calm, and don't sweat the small stuff.
Photographer: Chris Giles Photography
~
Contact: Abbey Bridal
Address: Suite 1-7 Level 2, The Dymocks Building, 428 George Street Sydney NSW 2000
Phone: (02) 9233 5106
Email: abbey@abbeybridal.com.au
Website: www.abbeybridal.com.au
Instagram: @abbeybridal