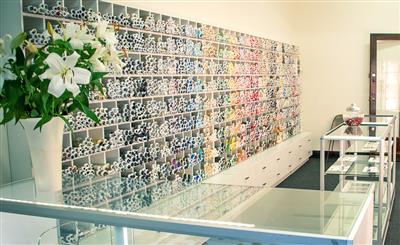 After 15 years in Sydney's iconic Nurses Walk, The Rocks, Buttons Buttons Buttons have moved to the 4th floor of our beautiful heritage listed Dymocks
Building in Sydney CBD.

Since 2001 Buttons Buttons Buttons have been trading in vintage,
antique and new buttons from all around the world. Comprising of a wide range of materials our buttons are available in; glass, wood, shell, metal,
coconut, Bakelite, fimo, diamonté, just to name a few. They stock a wide selection of novelty buttons from dinosaurs to Little Red Riding Hood, Christmas
to farm animals, flowers and more. They also have a small selection of vintage buckles.
If you are a dressmaker, knitter, collector, fashionista, designer, are looking for men's suit buttons, or have a passion for Buttons Buttons Buttons,
then they are happy to help you. The best way to do that is for you to come into the shop and explore the vast selection of buttons in their range.