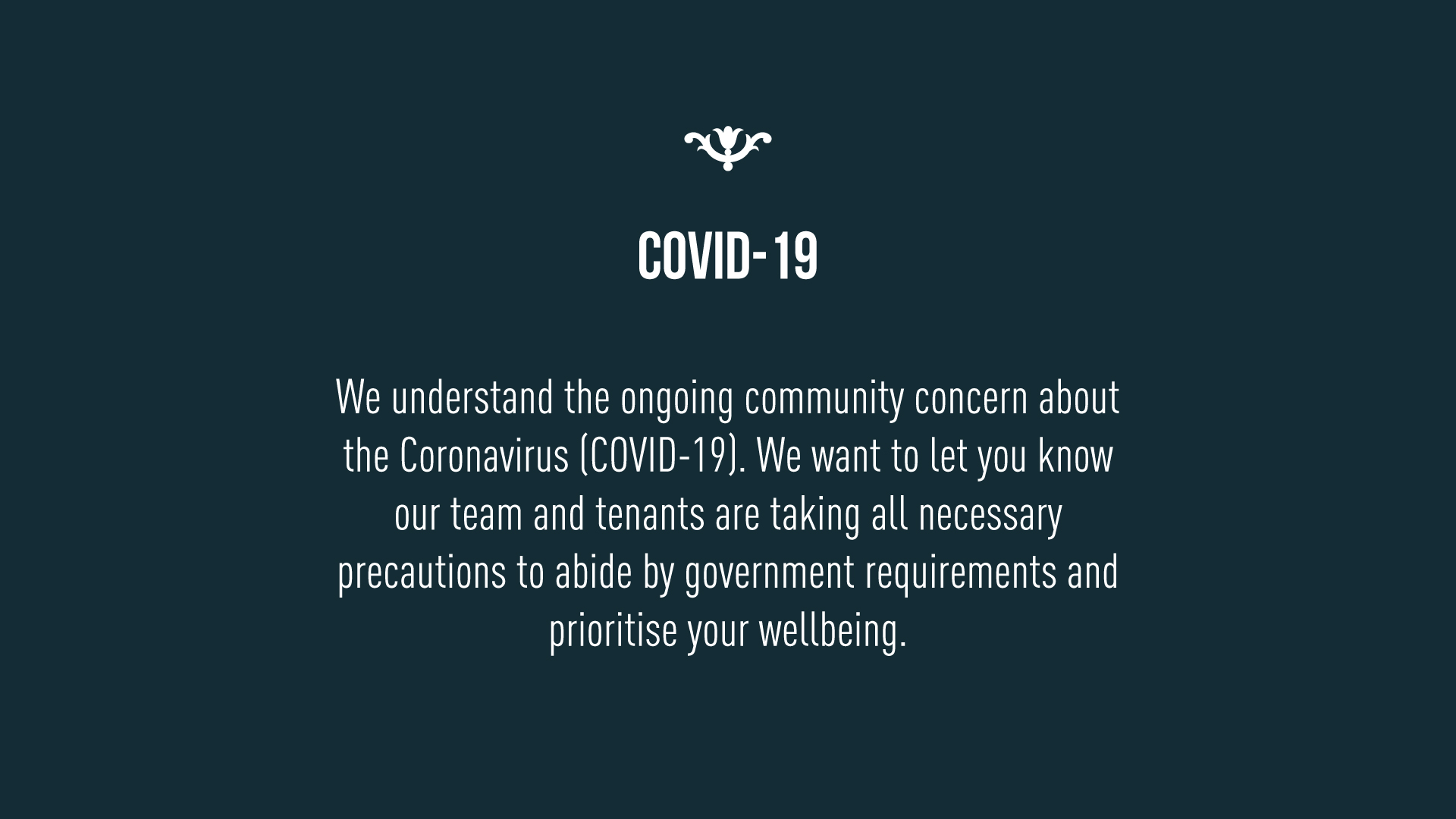 We understand the ongoing community concern about the Coronavirus (COVID-19). We want to let you know our team and tenants are taking all necessary precautions to abide by government requirements and prioritise your wellbeing.
In line with current Australian Government advice all gyms, personal training, barré, massage, tanning, beauty, nail and waxing salons, within our building are closed. Hairdressers and barber shops are remaining open, with the provision that the 'one person per four square metre' rule applies in the premises. Please check individual store hours before visiting for the most up-to-date information.
We recognise the critical importance of social distancing at this time. We ask you to adhere to current Government restrictions, which limits gatherings to two people in public spaces.
We ask that customers within the building practice social / physical distancing, and there must be no gathering within stores, hallways or stairwells.
We apply the highest standard of cleanliness and hygiene across our building. We have increased the routine cleaning of frequently touched hard surfaces. We expect our tenants to apply the same principles to their cleanliness and hygiene.
If a tenant becomes aware of any confirmed cases of COVID-19 within their customer facing teams in our centres, they must contact our centre management immediately. We would then work with our tenant and the relevant health authority to support any required public communication and advice on deep cleaning.
We remind all customers to practice regular hand washing, use hand sanitiser and cover sneezes or coughs with your arm, not your hands.
If you have flu-like symptoms, you should seek your doctor's advice. If you have returned from overseas effective 16 March 2020, you are required to self-isolate. You should not visit our building during this period.
When it comes to the health and wellbeing of our customers, tenants and staff, we follow the advice of the Australian health authorities.
We will update these messages as needed on this page.
Thank you for your support
The Dymocks Building management
LAST UPDATED: 31/03/2020