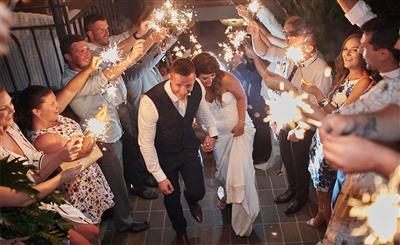 It's late and it's dark. It's your wedding and you want to exit with a bang.
We have taken photos for hundreds if not thousand of weddings and one of our favourite moment is the wedding grand exit.
Let's be honest, everyone loves pretty sparkles. Can you imagine what a mesmerising, picture-perfect moment it would be with all your guests holding
sparklers sending you and your partner off? People absolutely love it and most importantly, everyone will have fun and you get beautiful photos
taken.
Now, if you've decided to use sparklers for your grand exit there are a few things you must be mindful of:
Don't waste your money getting sparklers from your local dollar store or supermarket. Normally they sell those traditional short ones that don't
even last for a minute. So, by the time you light up the last guest's sparkler the first guest's sparkler would have been burnt out. If you've
booked with us, we have different sizes for you to purchase, the longest can last 2-5mins.
This is important! Remember to check with your venue if they allow sparkler send-offs. If it's an indoor venue, they will most likely have restrictions
and not let you do it. But you can probably do it outdoor so it's best to check first and see if there's enough outdoor space.
Best advice? Don't use matches to light the sparklers up. Have you ever taken more than 3 matches to light one up and just to see the flame go
out again? Get some tealight candles placed around or even bamboo torches for the guests to light the sparklers up quickly.
Remember to read the instructions on how to safely use, light up and dispose the sparklers. A bucket of sand is a great method to dispose them
or ask your venue if they might have a specific way of disposing them.
Let your guests know about it ahead of time to avoid confusions and chaos. Our advice is to prepare a big poster or chalkboard with "What", "When"
and "How" to announce to your guests what and when it's happening and how to use the sparklers safely.
Don't overbuy. You don't have to get one sparkler for every guests attending because some of your guests will leave before the wedding exit especially
the elderly and parents with kids. Purchase with us at no minimum quantity. We can supply the exact amount of sparklers you need.
Get someone to be in charge to gather your guests together for the grand exit. You can designate one of your bridesmaid or groomsmen or if you
have a wedding planner, that's even better, get them to assist with coordinating your exit.
The exit is incomplete without some awesome music. You might need speakers to play your music outdoor. If you have a DJ, give them a heads up so
they can prepare extra equipment.
HAVE FUN AND ENJOY! This is a perfect time for your photographer to capture amazing memorable shots.
Address: Suite 6 Level 8, The Dymocks Building, 428 George Street Sydney NSW 2000
Phone: 02 9231 6773
Email: hello@divonphotography.com.au
Website: www.divonphotography.com.au
Instagram: Divonweddingphotography