How to stay warm and stylish at Vivid
By: Montagio Custom Tailoring
Location: Suite 16, Level 2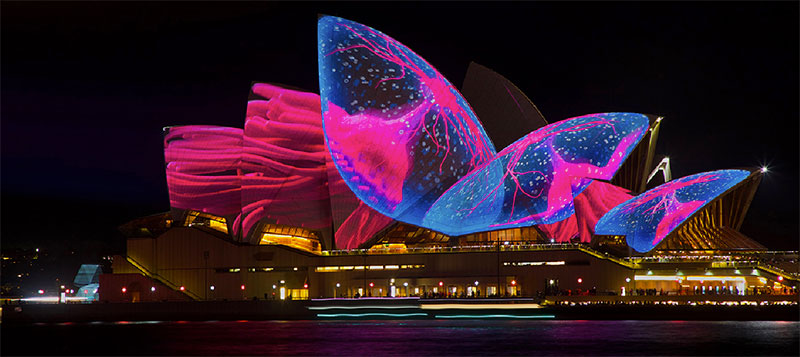 It's that time of year again when Sydney's landmarks come alive at night in an extravagant display of dazzling light and colour. Yes, it's time for the festival of light so aptly named Vivid to capture the imagination of Sydneysiders.
Fantastical as it all is, anyone who has ventured out to enjoy the many displays will know full well just how chilly it can be. So instead of getting caught out in the cold (quite literally) be prepared with these tips by Montagio Custom Tailoring.
THE PANTS
If you're still wearing shorts and t-shirts at night, then you're built of stronger stuff than most of us. But seriously, it's time to lose them and get yourself a smart pair of chinos. Jeans are great, but the truth is everyone wears them. Try standing out from the crowd a little with chinos in a vibrant colour. If there was ever a time when even the most self-conscious soul could make a bold statement in colour choice, then it's during a light show.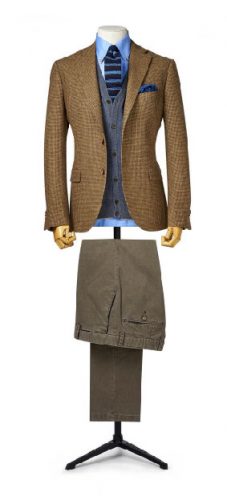 We'd suggest Autumn colours such as orange, red, or even yellow. Trust us, it will work, and you'll have a most individual look. But if you'd rather blend in, choose an olive pair. Just bear in mind whatever colour you choose here will affect the rest of your outfit so try to think ahead.
SWEATER OR SHIRT OR BOTH?
What you choose to wear under your jacket will depend largely on the weather that particular evening. If it's slightly chilly, then we'd say go with a regular button down casual shirt in an understated hue. In this instance where the shirt is visible, it's a nice touch to go with a pattern but make sure you choose one that complements your chinos rather than one that matches them. Matching clothes are for boys dressed by their mums, and we hope that stage of your life is well and truly over.
For colder nights we'd recommend a v-neck sweater with a plain t-shirt of contrasting colour underneath. While not wearing a shirt might seem more casual, a sweater worn the right way can actually take your look up a level from a style perspective. Again, make sure the colour complements your chinos with a nice contrasting shade.
If the weather turns Baltic, then you can combine your button-down shirt with your sweater. This, the warmest option, is also quite stylish once you get the colour choices right. Olive chinos, a white casual shirt with a subtle check in a colour of your choice, and a brown sweater is an understated casual look that ensures you'll never meet your sartorial doppelganger on the street.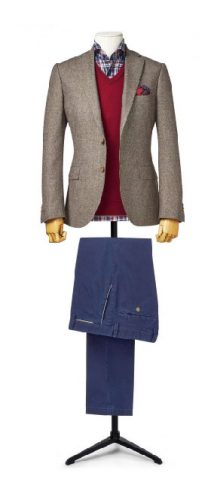 THE JACKET
Here you have but two choices and both finish off your look in entirely different ways. It's not quite cold enough to don the overcoat, so your options are limited to a blazer or a casual jacket. We have to say we're quite biased here as we do love anything that hints at a distinguished elegance, so we're definitely going with the blazer look.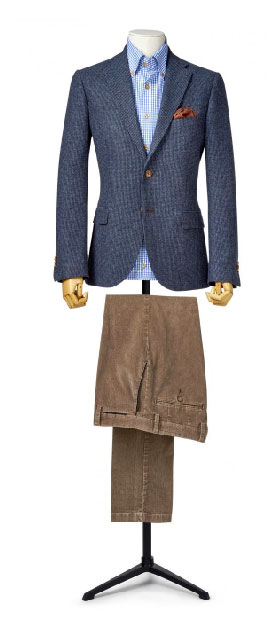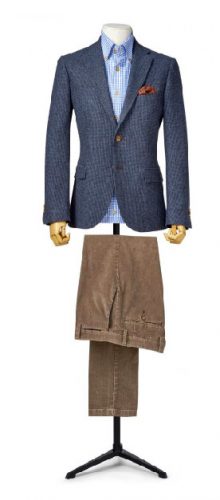 Now before you rush off to invest in a new blazer, take your current suits into consideration. The chances are several of your suits (no matter what colour they are) will be the perfect alternative to a blazer and will look just as good. Like we said, we're a little biased here, but there's no doubting the fact a blazer adds a touch of class no other style of jacket comes even close to achieving.
THE SHOES
With the many events planned for Vivid, you'll find yourself on your feet more often than not, so it stands to reason to wear comfortable shoes. However, running shoes just won't work with the ensemble we've recommended so if you're intent on maintaining your place at the top of the sartorial charts, then stick to a pair of brown leather brogues. The shade is a personal choice on your part but when going casual or smart casual lighter shades are a safe bet.
Vivid for us is a precursor to the colder weather we Sydneysiders so hate to see coming. But at Montagio, we're glass half full people and so see the coming cold months as the perfect opportunity to dust off those winter coats we love so much.
By: Montagio Custom Tailoring