Location: LEVEL 4, SUITE 2A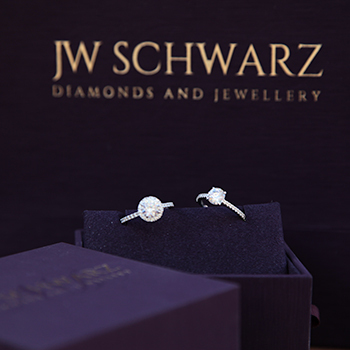 JW Schwarz is one of Australia's leading retailers for lab grown diamonds.
Based in the Dymocks Building in the heart of Sydney's CBD, they have been sourcing diamonds of exemplary quality for over 40 years. They provide the finest lab grown diamonds in the world to our customers.
JW Schwarz is dedicated to producing the highest quality jewellery, including engagement rings, wedding rings and custom designed rings. Their decades of experience is reflected in the quality found in all our exquisitely crafted pieces. JW Schwarz pride ourselves on our attention to detail in creating beautiful and luxurious jewellery that you can cherish for a lifetime.
Their mission is to cultivate a jewellery industry that is more transparent, sustainable and inclusive. The team of gemologists and diamond experts wish to raise the standards of the diamond industry without compromising between quality and conscience. Their lab grown diamonds provide unparalleled transparency to our ethics. The quality of the diamonds used in our jewellery is identical to that of earth mined diamonds. Their sustainable jewellery shines brilliantly and lasts forevermore without causing further destruction to the environment.
Founder, Justin Schwarz is a proudly certified gemologist, diamond grader, valuer and designer. Having started his career in the jewellery industry working in a family-run company, he was educated in the meaning of trust, value and true craftsmanship. Justin has gained hands-on experience at the Diamond Bourse in Tel Aviv, the trading of New York's 47th Street and the hectic pace of Hong Kong. He is trusted by some of the leading diamond and coloured stone suppliers from around the world. This provides us the opportunity to give our clients the finest diamonds, coloured stones and jewellery representing excellent value for money.
Justin believes in offering clients exactly what they have been lacking all these years; old-fashioned customer service beyond any expectations, an education that is second to none, and a dedication to providing the finest quality pieces.
It is the client's reaction to their dream piece that has allowed JW Schwarz to enjoy the journey with you.