Location: Level 3, Suite 16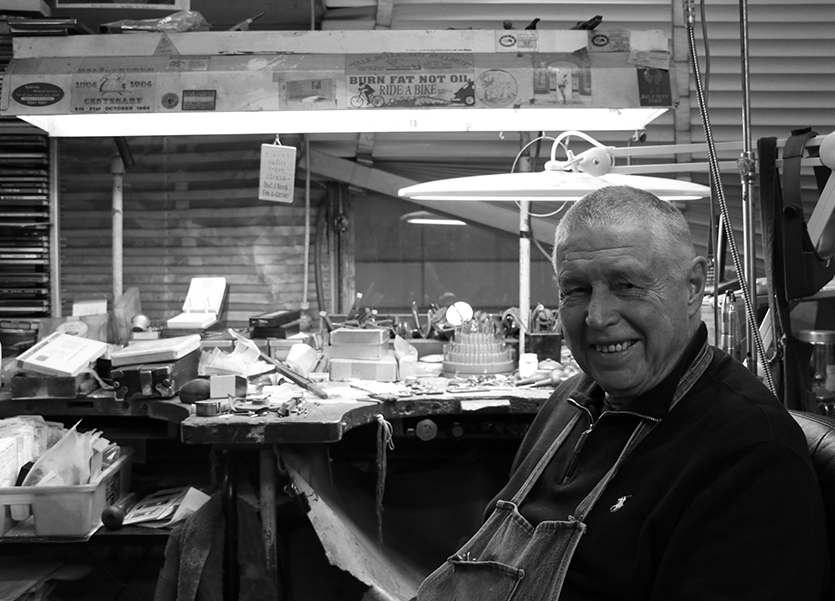 A laid back approach to a high end result.
Ron Crisp was a surfer from the hippie era who was going to be a fisherman but thankfully, his jeweller brother steered him on a different path.
As a 15-year jeweller's apprentice running errands, Ron always loved passing The Dymocks Building where June Dally-Watkins had her modeling agency. "All these magnificent looking women kept coming out of the building and I thought, that's a great building to work in!" he recalls.
And so it came to be 30 years ago when Ron Crisp moved his business here to create individually made pieces of jewellery. "People come to this building for customer service and to talk to someone who is actually going to do the work, not a salesperson," he said. "If my customer's in a hurry, there are display items to choose from, but 90% of my business is taken up with orders."
Ron interprets what each customer wants and sketches it up before proceeding, but says, "if it's not what they expected, I say 'don't worry, we'll redo it for no extra charge.' You have to be 100% happy."
Affable and approachable, Ron isn't in the business to make a fortune. "I don't have to work if I don't want to, but I just love it," he said. "What do you do when you retire? You die, and I don't want that because I'm having too much fun! Women come in here flirting with you to get better prices and it's fabulous, it's joyful. It really is… and the amount of chocolates I'm given!"
Ron shows me an exquisite engagement and wedding ring set that he has just finished, saying, "I'm looking forward to these customers coming in to collect their rings. They gave me a ruby and the rest was left to me. I really like natural, coloured stones and I wanted to do something like fallen sticks." The large tear-drop shaped ruby glows on a delicately intertwined wreath of fine gold 'twigs'. It is absolutely enchanting.
"If they don't like it that's okay," Ron says. "I like it and will return the ruby and keep it anyway." It's hard to imagine that this will be the case.