The fine fabrics of Holland and Sherry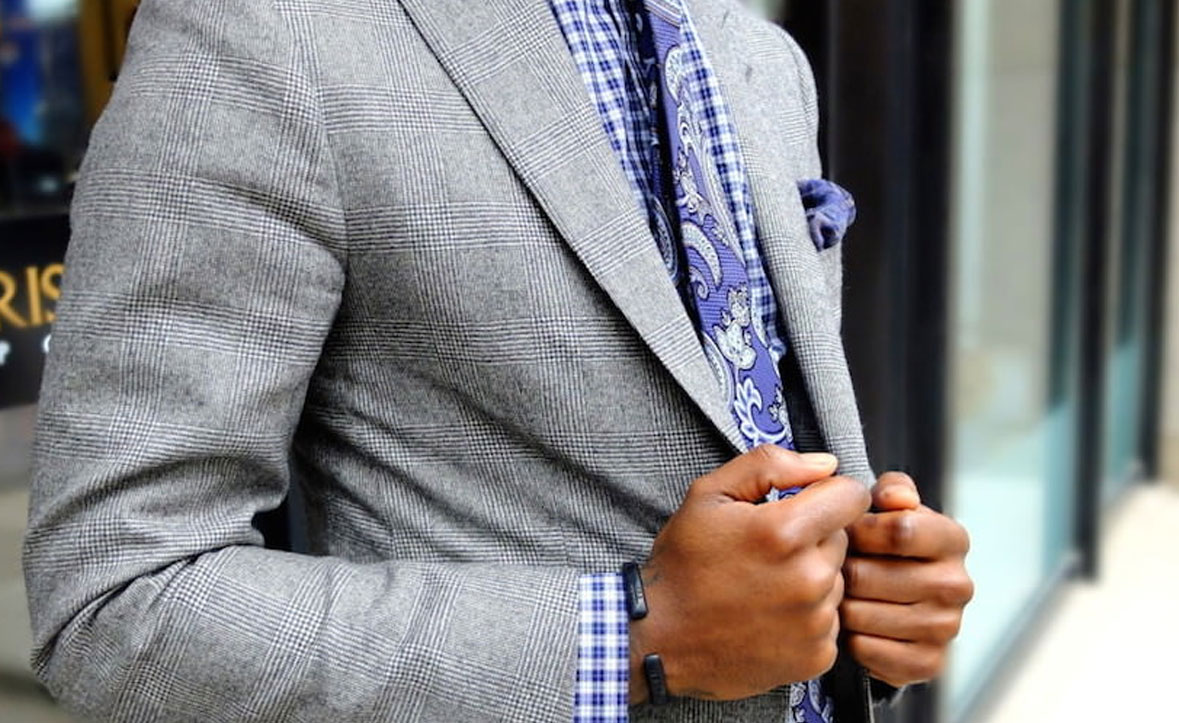 As stalwarts of the British tailoring industry, it's hard to look beyond Holland & Sherry when searching for the finest fabrics on the market.
In business since 1836, the fabric supplier has survived two world wars and countless recessions. For nearly two centuries, Holland & Sherry
have been the go-to fabric suppliers for many of Saville Row's top tailors. So how do they do it?
A LITTLE HISTORY
When Stephen George Holland and Frederick Sherry started their wool merchant business in London's Old Bond Street back in 1836, little did they know
what a lasting legacy they would leave behind.
As soon as they started business, Holland & Sherry became well-known as the men to go to for fine
woolen fabrics. And with such a good reputation among tailors, it wasn't long before requests came in looking for other fibres. They soon expanded
their operation to include cashmere, silk, linen, and cotton and on the back of their success, decided to get into the export side of the business.
By the early 20th century they were at the top of the industry dominating the markets in Europe and both South and North America. Such was their success
that they even had a foothold in the Russian market prior to the revolution.
An interesting side note to the story of the company is the fact that while Holland retired in the 1880s, there is no record of what happened to Mr.
Sherry. It has become something of a legend with many believing that he must have died during the war.
THE COMPANY NOW
Since its establishment, the company has bought more than twenty independent wool companies making it the powerhouse of fabrics that it is today. Their
most notable purchase though came in 1968 when they bought Lowe Donald, a Scottish cloth merchant based in Peebles. To this day their distribution
centre, stocked with thousands upon thousands of rolls of both Yorkshire worsted and Scottish tweeds, is based in the small town.
In 1982 the company finally relocated their headquarters to Savile Row, a move over a century in the making. It's from their London base that they
now run the global operation which interestingly has grown to include houseware items such as rugs, throws, and wall coverings.
Operating two fabric mills the company is now able to easily produce and ship their fabrics at a much faster rate than in years gone by. One such mill
is located in Chile and is ideally situated to receive raw fibres such as vicuna and guanaco from South American producers. The fabrics created
at this mill supply Holland & Sherry's American customers while back home their Yorkshire mill supplies both Europe and the UK. It is in the
Yorkshire countryside, which is commonly thought of as the traditional home of wool milling, that they created the world's first pure worsted vicuna.
THE FABRICS
It takes Holland & Sherry three years to create a fabric collection from idea to the finished article. Their design team painstakingly curate each
collection to comprise not only the best fabrics but also those that belong together based on their weave, design, and of course material.
The powers that be at the company follow their ethos of their predecessors Messrs. Holland & Sherry by taking a hands on approach to their fabric
design and creation. They spend a great deal of time with the tailors on Savile Row and beyond getting a feel for what the industry requires in
terms of fabrics.
In this way, each of their collections, which you may recognize as the sample books you see in your tailor's showroom, includes the styles and colours
popular at that moment. They often reimagine collections with current trends in mind giving them memorable monikers such as Dragonfly or Snowy
River. For example, the Victory collection last year became Chequers to reflect the demand for checks.
They have also produced some quite distinctive and head-turning fabrics throughout the years. From fabrics with strands of 22k gold to one sprinkled
with crushed sapphires, it seems that there's nothing beyond the capabilities of Holland & Sherry's design team. And regardless of the obvious
expense of such fabrics, they are incredibly popular. Their latest effort, a luxury worsted infused with black pearl particles, is a big hit.
THE QUALITY
Interestingly, Holland & Sherry don't just buy their wool from any farmer. While they buy from trusted sources, they also have their own flock
of sheep in Australia. As a company, they believe that it's very important that they take special care of the animals that produce wool for their
fabrics. It's a nice aside which only adds more charm to the brand which is already a favourite among tailors.
Wools from their own flock and those that they purchase usually find their way to Peebles where staff work a loom to create samples of new fabrics.
Here they perfect the colours, blends, and so on, as they prepare new collections to send out to tailors. They believe that in keeping as much
of the process in-house as possible, they can maintain a firm grip on the quality of every single fabric they send around the world.
POPULAR AMONG THE STARS
It should come as no surprise that those unique fabrics incorporating precious stones are popular among the rich and famous. However, it's not just
the ostentatious fabrics that grace the red carpets of the world. Holland & Sherry Fabrics are an incredibly popular choice for wardrobe departments
having featured on the big screen in films like Moulin Rouge and Mission Impossible.
Even fashion brands are in on the act, with Louis Vuitton and Thom Browne just two of the many well-known brands that use Holland & Sherry fabrics
for their ready-to-wear collections.
And as suppliers to the famed tailors of Savile Row, it's understandable that many of today's stars wear both suits and tuxedoes made
with their fabrics. Attend a Hollywood bash or a London Premiere and although you may not notice at first, you'll find wall to wall Holland &
Sherry throughout.
At Montagio we're happy to provide you with the finest fabrics for your suit and that includes Holland & Sherry. If you're interested in taking
a look at some samples of the finest fabrics Britain has to offer, then pop into our showroom and we'll be happy to show you the fabulous range we have access to.
~
Contact: Montagio Custom Tailoring
Address: Suite 16 Level 2, The Dymocks Building, 428 George Street Sydney NSW 2000
Phone: (02) 9045 0508
Email: info@montagio.com.au
Website: www.montagio.com.au
Facebook: Montagio
Instagram: @montagiocustomtailoring