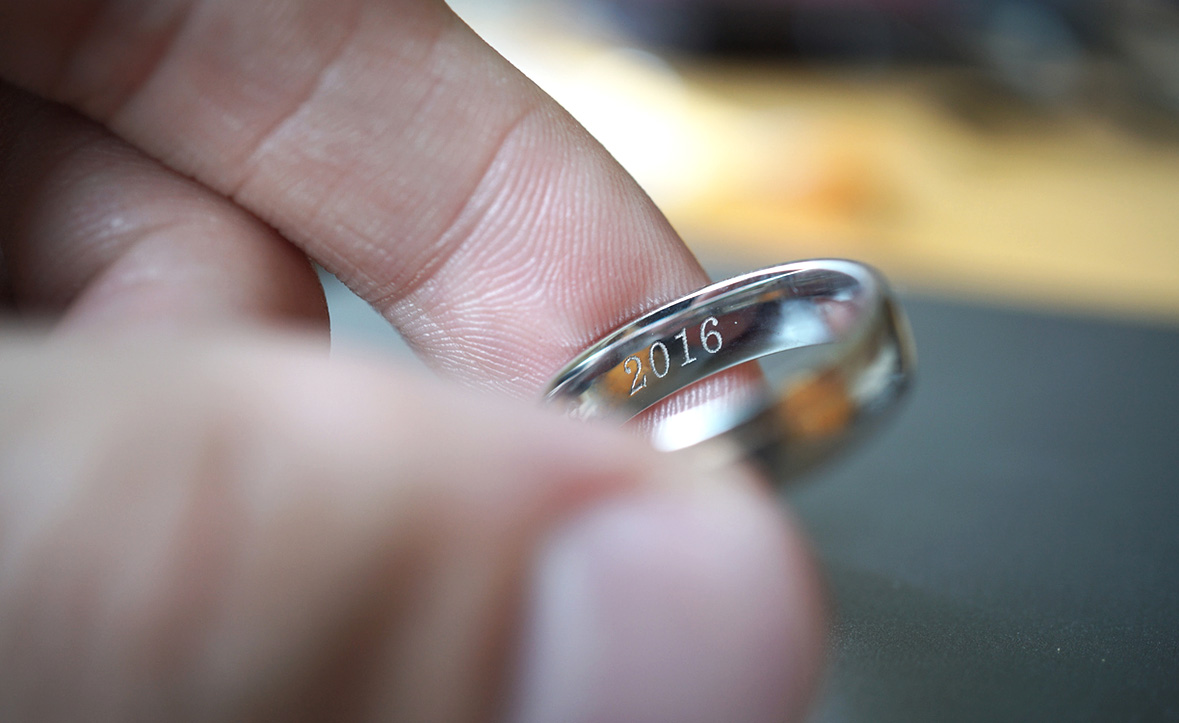 Choosing to propose to your loved one can be a very exciting time in your life.
The engagement ring you choose for your significant other is a symbol and declaration of love and the commitment you publicly share. Naturally, we all
want to impress and dazzle our partner when the moment to pop the question arrives. This is about the time we start to conjure up a million different
ways to make that moment unique, special and remembered forever.
Hand engraved engagement rings are often considered the ultimate declaration of love. At John W. Thompson and Son at The Dymocks Building they specialise in traditional hand engraving and unique handmade custom rings.
Made with love…
This is where the dedicated team, specialising in the craftsmanship of hand engraved custom rings can help. What could be more thoughtful than displaying
a loving sentiment that you and your partner share. Perhaps it's a phrase, a single word or dates and initials. It could be a coded message that only
you and your partner understand.
Since Christmas is a popular time of year to pop the question, John W. Thompson and Son think it's only fitting to share with you a few tips with engraving
ideas to help you create your special message, and perhaps spark a little inspiration along the way.
Say it with love…
Tip # 1 Initials and wedding date – for brides and grooms who prefer a classic approach, this engraving never goes out of fashion. There
should be room for at least your first names, but you can use initials if space is tight and depending on your preference.
Tip # 2 Forever… a very simple word with an important meaning.
Tip # 3 Engrave a message in Latin or another language that might mean something to the both of you, making the sentiment more personal
to you and your spouse. For example, "Amor Vincit Omnia" is a Latin phrase for love conquers all.
Tip # 4 What lyrics are meaningful to you and your significant other? Are they short enough to engrave inside your wedding rings? For
example – "all you need is love".
Tip # 5 Is there a special name you refer to you partner other than his actual name? Brides and grooms sometimes engrave each other's
nicknames inside their wedding rings.
Tip # 6 Intertwine spiritual or religious references into your declaration of love by choosing a portion of a phrase or verse that's significant
to your religion.
Tip # 7 Perhaps words are not your thing? As the saying goes "a picture is worth a thousand words". In this instance we are referring
to symbols – think a heart, the symbol for eternity—the highly talented Master Engravers at John W. Thompson and Son can add an intricate symbol
to the inside of your engagement band with accuracy and precision.
Tip # 8 A coded message that is special to you can also be a very thoughtful way to express your love and care for your future spouse.
Immortalise your love by engraving your special sentiments on the symbol of love that you can both cherish forever.
Supported by advanced technology and executed with precision, our skilful engravers can take your handwriting and carve it onto the inside, or outside
of your engagement ring. It is our commitment to quality, precision and attention to detail that will make your engraved wedding ring unique and
admired by your partner forever.
Oh, and congratulations on popping the question!
Suite 1B, Level 4,
The Dymocks Building
428 George Street Sydney